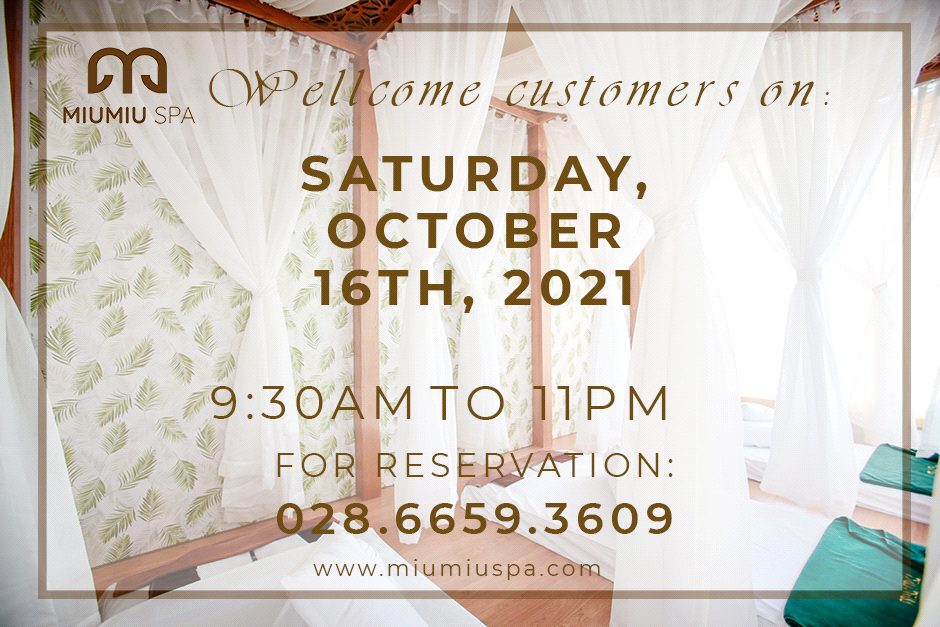 Dear friends and valued customers,
As the epidemic has gradually been controlled and the spread of the virus variant has decreased, miumiu Spa is delighted to announce that Miumiu spa 1 will be reopened after a long break. However, we have some requirements for customers when visiting our spa:
1/ You must get at least one dose of covid vaccine and after two weeks.
2/ We will disinfect your hands and take your temperature by the entrance.
3/ We can only serve 50% capacity, please excuse us if we have to reschedule due to the number of customers allowed.
4/ Please wear a mask when visiting the spa.
Open time: Saturday, October 16, 2021 from 9:30AM to 11:00PM.
At Miumiu spa, we value your health and safety more than anything, for you, your family, and our team at the spa. And here are what we can do after reopen to ensure your health and safety:
In the massage room:
Ensure to maintain separation between customers by curtains.
After each customer, we maintain the cleaning and renewal of items such as massage beds, massage chair, the face towels, towel warmer, doorknobs, light switches, oil bottles and especially often leave windows open.
In addition, all restrooms and changing rooms are being cleaned thoroughly each hour to ensure a hygiene common space for everyone.
The room temperature will remain at 26 °C.
Immunizations
All of our employees have been vaccinated with the second dose of vaccine and have negative tested results for Covid.
We are so grateful for your continued love, support, and understanding through this time. Remember to take gentle care of yourself, drink lots of water, stay home if you aren't feeling well, and continue to stay positive. Together we are getting through this precious day, in every moment!
All our love and gratitude,
miumiu spa team