Welcome to

miu miu spa

Miumiu spa is a well-known and premium brand in spa field. The modern Asian-style architecture of Miumiu spa combined with the subtle decorative furniture brings a harmonious, and cozy as well as professional, and polite atmosphere. In a piece of quiet and melodious music, being served with a professional team, we always wanted to bring the best services to you, for you to relax, reduce your fatigue and stress after all the outside troubles of life. Let yourself be cherished and love yourself more!
Miu Miu's signature body aroma massage
Aqua Peel and Cryo treatment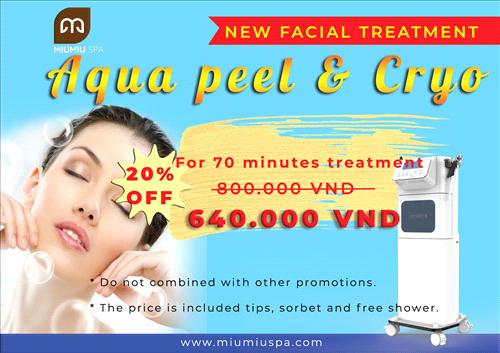 Aqua peel and Cryo is a comprehensive skincare treatment that removes dirt and sebum deep in the pores by using water, AHA, BHA, AO, make pressure on the skin to clear the dust and clean pores, bring moisture deep into the skin, the treatment helps to improve tiny acne, blackheads, remove dead skin. Use appropriate lights for each skin type to boost the collagen production process, brighten skin or soothe irritated skin, etc. Along with the sub-zero cooling step to bring nutrients to nourish and balance moisture, helps lift muscles and tighten pores.
Opening Hours
Open Daily

9.30 AM - 11.00 PM

Last Booking

10.00 PM